Jaye-nimazain bichadi gayi, samaji faasla khatam aur mask ka istemaal tark kardiya gaya
Hyderabad: Wabai marz corona ki wajah se duniya ke taraqqi Yafta mumalik se leker dehaton tak ki zindagi mein numaya tabdeelian aayi hain aur corona ne ibadat gaahon ko bhi mutasir kiya hai. Corona ke aamad ke sath hi sab se pehlay masajid se jaye-nimazon ko utha diya gaya tha jiske baad farsh par namazain ada karne ke alawa farsh ko rozana sanitize kiya jane laga tha, lekin ab achanak shehar ki kayi Masajid na sirf dobara jaye-nimazain bicha di gayi hai, balke saf bandiyou may ikhtiyar ki jaane wali samaji fasla bhi khatam kardiya gaya hai jis se aisa mehsoos horaha hai ke masajid se corona rukhsat ho chukka hai.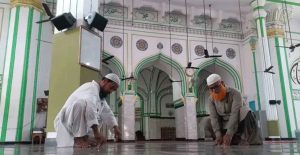 March ke mahinay mein jab Hindustan mein lockdown hua tha tab masajid mein bhi ibadat ke tareeqa bhi mutasir hue jaisa ke jaye-nimazain ke liye saf bandi mein kandhe se kanda mila kar khada jata tha wahein corona ki wajah se musaliyoun ke darmiyan ek se dedh meter  ka fasla ikhtiyar kiya jane laga jo darasal corona ke phelao ko roknay ke liye ki jane wali ahthiat thi. iske alawa masajid mein corona se pehlay jo shandaar aur qeemti jaye-nimazain bichhayin jati theen inhen bhi hata diya gaya tha aur sirf farsh par namaz ada karne ke alawa rozaana farsh ko sanitize kiya jaraha tha lekin haliya dino may shehar ki kuch masajid may na sirf jaye-nimazain dobarah bicha di gayi hai, balke saf bandi ke liye jo samaji fasla ikhtiyar kiya jaraha tha use bhi kam ya bilkul khatam kardiya gaya hai.
Masajid mein jaye-nimazain ke dobarah bicha dene ke baad 3 ahem sawalaat zehen mein ubharnay lagey hain.
1. kiya masajid se corona khatam hogaya hai?
2. kiya masajid mein aanay wala har musalli corona se mehfooz hochuka hai?
3. jo jaye-nimazain Masajid mein dobarah bichaa di gayeen hain kiya woh corona virus se sad feesad pak hain aur kiya woh istemaal ke douran dobarah virus se mutasir nahi hogi?
Jaye-nimazain ko dobarah bicha dene ke zimn mein intizamia aur deegar hukkaam ka kehna hai ke chunkay sardiyoun ka mausam shuru hochuka hai aur farsh thanda hota hai lehaza sard mausam mein thanday patharon par namaz padhna aasan nahi hai is liye jaye-nimazain dobarah bicha di gayi hai.
Ye jawab kisi had tak maqool bhi lagta hai lekin kuch khadshaat hanooz moujood hain jaisa ke maan liya jaye ke sardi se bachao ke liye jaye namazain bicha di gayeen hain yahan tak theek hai lekin saf bandi mein jo faasla jaye-nimazain ke bichenay se qabal ikhtiyar kiya ja raha tha woh kyun khatam kardiya gaya hai?
Dosra sawal yeh hai jab masajid mein 100 se ziyada musalliyoun ki back waqt namaz ada karne ki aasaan gunjaish moujood hai to phir panj-gana namazon mein 2 douzan bhar musalli mojood rehtay hain un mein saf bandi ke douran ziyada faasla kyun nahi rakha ja raha hai.
Teesra sawal yeh hai ke jaye-nimazain ko bichenay ke baad unki safai aur sanitizing ka kiya tareeqa-car ikhtiyar kiya ja raha hai. corona ke is bohraan ke daur mein jaye-nimazain par riwayati andaaz mein sirf jhadoo mar dena kiya kaafi hai? choutha sawal yeh hai agar koi musalli aam sardi, khansi se bhi mutasir hai aur jaye-nimaza ke kisi hissa ko mutasir karta hai to kiya is infection se dosray musalli mutasir nahi honge? aur khuda-na-khwasta agar koi corona se hi mutasir musallii jaye-nimazain ki kisi hissa ko mutasir karta hai to sehat mand musalliyoun ko mehfooz rakhnay ka kiya tareeqa-car hoga?
Yeh aisay sawalaat hain jinke jawabaat shayad masajid ke intizamia ke paas bhi nahi hain. sardiyoon se hifazat ke liye masajid mein jaye namazon ko bichenay ke sath kuch ahteyati tadabeer ko jo nazar andaaz kiya ja raha hai woh na sirf masajid ko Allah rab-ul-izzat ki bargaah mein sajda karne aanay walon
Ke liye khatra ki ghanti hai balke corona ke pehlao ka zariya bhi bansakta hai.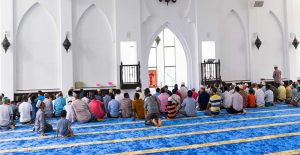 Jaye-nimazain ko bichenay ke baad musalliyoun ke darmiyan kam-az-kam ek se dedh meter ka faasla (jo lockdown ke waqt ikhtiyar kiya jata tha) usay barqarar rakhnay, jaye-nimazain apni inferadi jaye-nimazain bichane jaisi tadabir ka ikhtiyar karna waqt ka taqaza hai take ibadat gahoun ko coronavirus  ke phelne ka marakiz may tabdeel hone se bachane ke alawa muslim dushman media ko koi mauqa na diya jasake.
Dekha ja raha hai ke jahan aksar masajid mein jaye namazain bichenay ke liye alawa samaji faasla khatam kardiya gaya aur to aur mask ka istemaal aisay tark kardiya gaya hai jaisa ke corona ne inhen khaas paegham rawana kiya hai abi karega. yaad rakhen corona abhi khatam nahi hua hai lehaza aap ko apni aur apne afraad khandan ki hifazat karni hai.
huzaifa arqam